Hydraulic cylinder tensioners for non-rotating tightening of bolted joints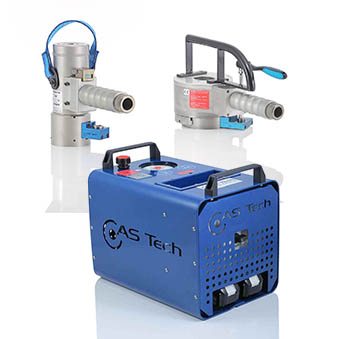 A different tightening technique.
Our partner AS-Tech specialises in developing cutting-edge hydraulic equipment for various purposes including non-rotating tightening of bolted joints. Using hydraulic tensioners it is possible to carry out controlled tightening to the elastic limit.
The force is produced and transmitted without friction and acting along the axis of the bolts. This special assembly technique enables excellent balancing of the forces as part of the most sensitive assembly in the energy sector (nuclear, wind-power etc.), the petrochemical industry or the steel industry.
At DAMATORK, we can offer you advice based on a very comprehensive range of cylinder tensioners from AS-TECH, from the simplest to the most complex, and high-pressure hydraulic pumps up to 4,000 bar (58.000 psi).
Diversified solutions to handle any situation:
There are a multitude of hydraulic tensioners that suit your specific axial tightening application to different degrees.
You might want a simple or multi-stage tensioner, depending on the space available and the space between axes;
Tensioners with interchangeable traction nuts for more flexibility: one tensioner for various bolt sizes.
Automatic cycle tensioners to optimise assembly time.
Finally, we can offer various interesting options to boost your quality assurance:
A single measuring and traceability system for assembly operations carried out: BomAS/BodAS. This last option allows you to check the pressure and also the extension of the bolts remotely and wirelessly before saving the necessary data using special dedicated software.
A cycle-counting module allows you to plan periodic maintenance for your equipment.