Optimisation of your tightening operations, from the work station to application.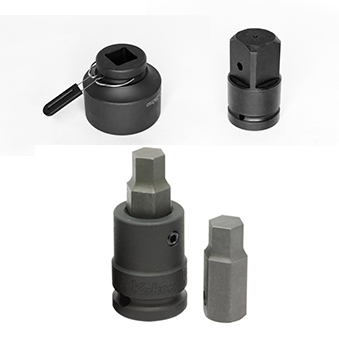 Connecting your tightening tool to its application:
DAMATORK can provide you with all the superior-quality sockets or hard tightening inserts you need to connect your tightening tool to bolted joints that you are supposed to work on. With input squares from the smallest to that largest sizes, using the metric or imperial system (in inches), we endeavour to meet all your needs.
For example, we offer sleeve drive sockets, used by impulse screwdrivers (RED ROOSTER and YOKOTA) to improve transmission and repeatability of torque. In addition to sockets and tightening inserts, we can also offer all the adapters, reducers and other accessories that might be useful.
Making your tightening tools safer and more convenient to use
Whether you plan for your tool to be used at a fixed work station or to be completely mobile, having a safe, ergonomic tightening tool is a key concern. DAMATORK can offer you some ideas about the important aspects of using an industrial tightening tool and provide innovative solutions so you can make the most of their potential. Some examples of solutions suggested:
Balancers
Torque reaction arms
Hand guard
Double grip (you need two hands on the tool to activate it)
Sliding square support arm – anti-crush